This program plays a very positive role in the lives of some of Cape Town's most impoverished children and youth. Volunteers are placed on a physical education program which runs in conjunction with the local public primary school curriculum. Participants on this program will be involved in delivering a sports program as well as assisting local teachers with classroom lessons. Days will vary depending on the activities planned and the volunteer's own creativity! The program caters to children ranging from  6 - 13 years of age. International volunteer assistance is essential to success of this valuable program and offers the chance for children to achieve goals and ultimately improve their lives.
Volunteers will also spend two afternoons per week learning how to surf with a professional Surf Instructor at Muizenberg Beach - THE most popular surfing beach in Cape Town which is about a twenty minute drive from the volunteer accommodation.
Goals of this Project:
Alleviate health and social issues for the youth of Cape Town by engaging them in sports, outdoor activities and developing a life-long love of sport and physical activity
Improve the future prospects of some of Cape Town's most vulnerable youth
Provide educational classes, increase participant confidence and teach team-work and other skills that will benefit children into the future
Create inter-cultural understanding which benefits both residents and international volunteers alike
Volunteers play an integral role in engaging at-rick youth in physical activity and improving their future prospects. Sports-based youth programs improve the leadership, teamwork and self-governance skills of at-risk teens. By participating in this program volunteers are supporting and empowering youth, keeping them off the streets and from participating in anti-social behavior, while inspiring them to become active. By teaching youth sporting skills, it gives students a free or low cost social option to participate in sports alongside their friends, to meet new people with similar interests and to engage in positive social activity outside of school hours. Students will also benefit from a greater cultural understanding from working alongside international volunteers.
Volunteers will work 5 days a week with the children.  Some days will be a full 8 hours, while others may only be 4-5 hours, depending on the needs of the project.  Mornings are spent conducting physical education classes and the afternoons are spent assisting the teachers in the classroom. Most of the children speak English yet their home language may be Afrikaans or Xhosa.
Volunteers will also have a chance to learn how to surf with a professional instructor and have two lessons per week.  Volunteers will have use of the boards on their off days.
Volunteers on this program will participate in a variety of tasks and can expect to;
Interact with the children on the program
Facilitate the physical education classes
Assist teachers with lessons in classrooms
Have surf lessons with a professional surf instructor
Love Volunteers welcomes all those 18 years and over who wish to help create a brighter future for children through the power of sports. This project is best suited to those who are either pursuing a career in the field of physical education, those who wish to explore an interest in this field, or those who simply wish to share the joy of sports with the next generation. As such, the project is open to all and does not require participants to have specific education, qualifications or experience, as you will be shown everything you need to know by one of local project leaders. Applicants must have a genuine willingness to help, be fit and active, show drive and initiative, and bring a positive 'can-do' attitude. If this sounds like you, we want you on the team!
Additionally, volunteers applying to join this program will be required to supply to following documentation:
Emergency contact
Police check
Resume
The program is based in beautiful Cape Town, the tourism hotspot of South Africa, boasting a wonderful hospitality scene, gorgeous beaches, scenic landscapes and the iconic Table Mountain. Volunteers on this placement will be excited by all they can experience while based in this city, while also working on an important environmental protection program.
This project is available year-round and programs start every SUNDAY. Volunteers can choose to participate for periods ranging from 2 weeks to 12 weeks. Longer stays can be arranged directly with the local team, but will be subject to availability and individual visa conditions.
Spaces on this project are limited and therefore subject to availability. Early booking is recommended.
For current available start dates please check the calendar on the right.
Arrival & Orientation
Breakfast , Airport Pickup Included
Upon arrival into Cape Town airport volunteers will be collected by a representative of the local project team and transported to one of our Cape Town hostels where they will join a short welcome session. On Monday, volunteers attend the full orientation session where a representative from the local team will fill you in on local and regional customs, traveling, rules and recommendations, and of course, what to expect from your volunteering experience in South Africa.  You will then be transported to your assigned accommodation in Observatory, a suburb of Cape Town. This is a great opportunity to get to know your hosts, meet your fellow volunteers, and ask any last questions you may have.
Program Arrival Day: SUNDAY
Program Departure Day: SATURDAY
Arrival/Departure Airport: Cape Town International Airport, Cape Town, South Africa (CODE: CPT)
Volunteers on this project are primarily accommodated at a fabulous Volunteer House located in one of the best suburbs of Central Cape Town - Observatory.
Observatory, or "Obs" as the locals call it, is Cape Town's most bohemian suburb and lies about 15mins (drive) east of the city center. Located just 2km from the University of Cape Town, this student town is a vibrant, multi-cultural community that attracts young travelers from all over the globe, all year round. Our hostel is a 10min walk from Lower Main Road - the main entertainment area and heartbeat of Obs. You'll find quirky restaurants, easy going bars, live music (everything from Reggae and Afro-jazz to Contemporary) and tons of cozy little coffee shops and cafés. During the Apartheid era, Observatory was one of the few "grey" suburbs – areas where people of mixed race, religion and cultures were allowed to live together. This spirit has lived on and has resulted in a suburb unique in its diversity. Within a 5km radius of Obs, you'll find the Newlands rugby and cricket stadiums, various shopping centers, museums, art galleries and stage theaters, hiking trails and of course The Old Biscuit Mill - this vibrant spot is home to night and day markets, designer stores, delicious farm-stalls, decadent cafes as well as an awesome line-up of festivals and events.
There are two houses located right next door to each other, joined at the rear by a courtyard.
Each house boasts the following features:
Accommodation for up to 50 volunteers in dorm-style rooms, sleeping between 4-8 people
On-site, live-in Hostel Manager
2 fully-equipped Kitchens
2 communal lounge areas with satellite TV
Fully-fitted bathrooms with 4 showers and 3 toilets in each house
Individual lockers for each volunteer - padlocks not supplied
Free WiFi internet connection 
Linen provided
Centrally located on transport routes and close to supermarkets, internet café, launderettes, restaurants, etc.
Self-service breakfast at the hostel on week-days (Monday – Friday, 6am – 8.30am). Cereals, bread/toast with various toppings, coffee/tea, variety of fruits.
Lunch, dinner and weekend meals are not included but can be eaten out at any of the affordable and varied eateries. Supplies can also be purchased and meals prepared in the house kitchen.
All volunteering projects are situated within walking distance or one taxi ride (10-20mins)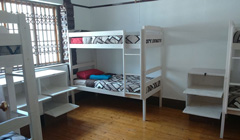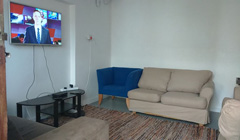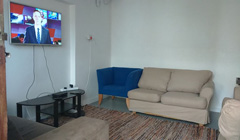 For those who prefer or if there is no availability at the volunteer houses, host family accommodations are also available. Home-stays are located at least 30-40 minutes from the center of Cape Town and are a fantastic way to be immersed in the culture of South Africa!
That's just
USD 60

per day* for:
*In addition to the program fees listed above a Registration Fee is payable to secure your place. The registration fee is USD 299 for those volunteering with Love Volunteers for the first time or USD 149 for any subsequent volunteer placements. The registration fee includes: lifetime LV Alumni Membership, fundraising support & advice, dedicated pre-departure support, certificate of completion (on request), and exclusive access to the LV Trip Planner.
Some things are not included in the program fees listed above, such as flights, visas, vaccinations, travel insurance, additional foods and snacks, spending money, local transport, in-country trips and excursions, return airport transfer (unless mentioned above).
Please note that prices are subject to change without notice. Please ensure you have read the Love Volunteers Terms and Conditions & Refund Policy.